We Did It! We WON the Runoff!!!!!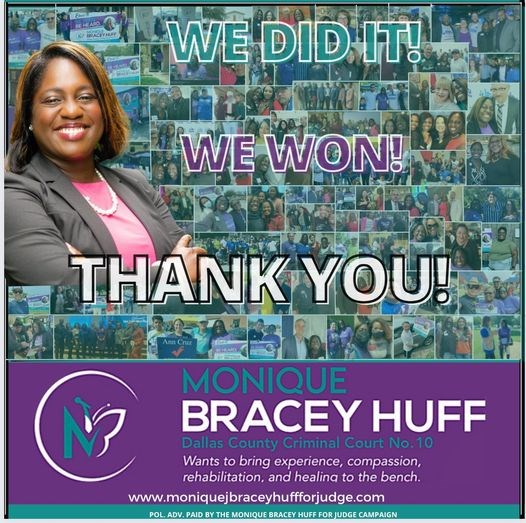 Thank you, Thank you, Thank you Dallas! Your continued support for our campaign trail is very much appreciated! Its been a long, difficult, and challenging road, and I know I have many challenging obstacles ahead of me, but I assure you, I will not give up, not give out, and judge compassionately and with reason while I serve as your Dallas County Criminal Court #10 Judge for the next term cycle! I am excited, but I am ready to step up to the challenge! You can count on me!

Once again, Thank you, thank you to every single person who's supported our campaign, every new person I met along the campaign trail, every lesson learned and every experience earned. Be Seen! Be Heard! Thank you for Voting Huff! Monique J Bracey Huff
NEXT UP: Vote in the Primary Election.
Early Voting is October 24, 2022 through November 4, 2022. Election Day is November 8, 2022!
Instagram:@mjbracey.huff
Twitter:@mjbraceyhuff
Facebook: /mjbraceyhuffforjudge
#moniquejbraceyhuffforjudge #countycriminalcourt10 #mjbraceyhuffforjudge #BeSeenBeHeard #countycriminalcourt10
#dallascountycriminalcourt10 #runforjudge #judgeforacause #ccc10 #BeSeenBeHeard #votehuff #mothersday #mom
www.moniquejbraceyhufforjudge.com