Issues
We will be bringing more important topics soon!
The pillars of the Campaign for Monique J. Huff for Judge of County Criminal Court No. 10 are Compassion, Justice, Respect.
Compassion
The Court can be a scary place for all involved in the criminal justice process, but I believe it should be a safe place for victims not be be revictimized, the accused to receive their day in Court, and for those working in the Court to be treated with respect. I plan to treat all persons contributing to the workings of the Court with compassion to hear their issues and work together towards the resolution of issues.
Justice
The Court is to ensure that all parties are provided fair representation under the rule of law. I plan to run an efficient Court were all parties know their roles and are allowed to perform their job whether prosecutor, defense attorney, bailiff, court clerk, court reporter, or service provider. I want victims to feel safe to be heard and start to heal.
Respect
All human beings deserve respect. The law grants them the opportunity to be heard, and I want all afforded that opportunity under the law. I want to get to the heart of what contributes to domestic violence. I want to provide resources for funding a job, financial education, and anger management. When a person doesn't feel they can provide for themselves or their family, this feeling of helplessness can lead to anger and violence. I plan to provide resources for those asking for help and wanting to rehabilitate themselves and do better.
#BeSeenBeHeard
It is common procedure that individuals charged with a family violence offense are required to take a Texas Department of Criminal Justice certified Battering Intervention & Prevention Program, known as "BIPP." Does this usually required program address some of the problems at the heart of domestic violence?
(
Read More
)
---
October is Domestic Violence Awareness Month.
In honor of Domestic Violence month, join me every Tuesday in October for "Law Tip Tuesdays," a domestic violence series.
I hope you find these tips helpful, feel free to share. Each episode is geared towards sharing tips on what would take place in a Texas criminal court.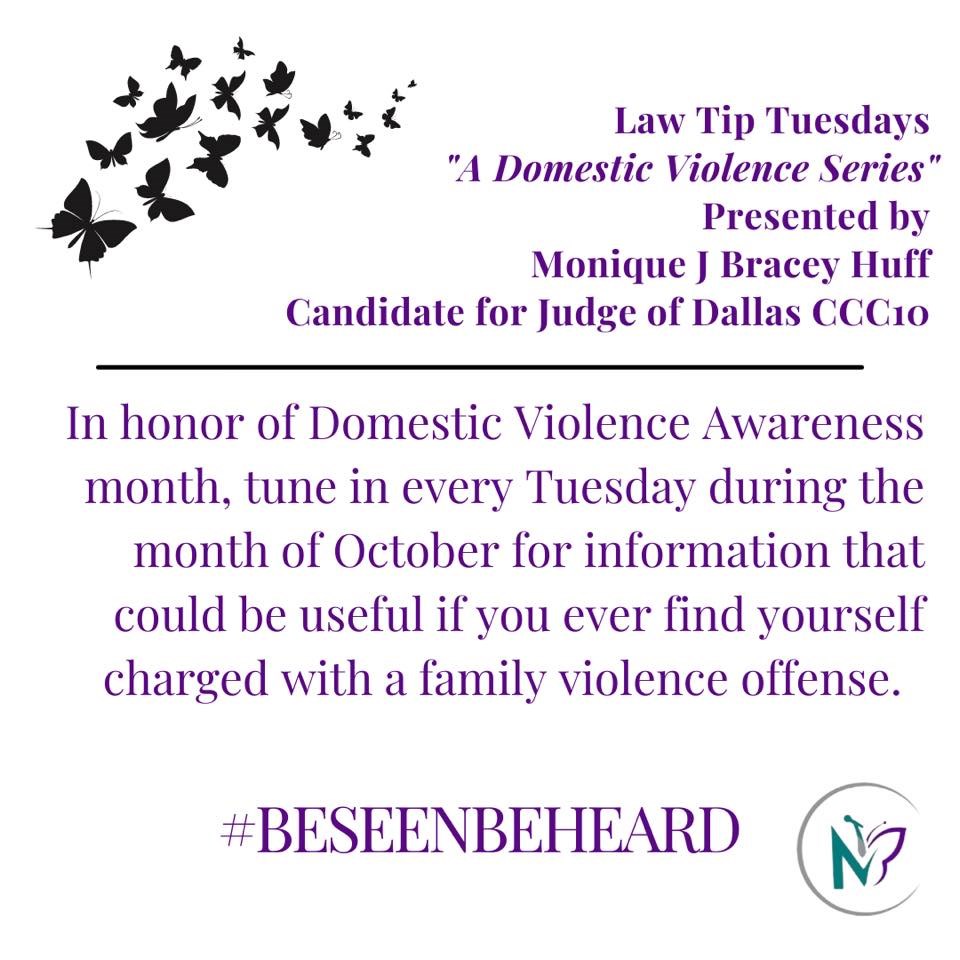 If you need a space to talk or an ear to listen- Domestic Violence National Hotline number is 1.800.799.SAFE (7233).
Read More
)